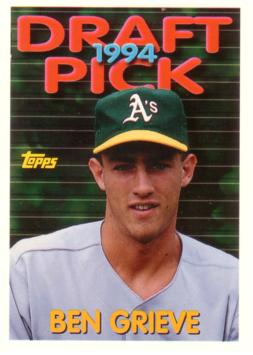 Say yes to outfielder Ben Grieve and you can transform his legacy.
Ben Grieve, of the A's and Rays, is one of thousands of ex-big leaguers waiting for a sponsor. His page is wide open and for $10 – that's 7 cents a day for a year or 21 cents for each of his 118 career homeruns — you can give Ben a chance to escape Baseball-Reference (and sadly, real life) anonymity by garnishing his page with a clever anecdote, fond memory, or completely unrelated advertisement.
Player Report:
Ben Grieve burst forth like a tidal wave from Oakland's East Bay, soaking the American League in the spray of his loping strikeouts and late-inning runs batted in. He was as consistent as the Pacific tide those three glorious seasons in the AL West, putting up an OPS of.844, .840 and .845 in 1998, 1999, and 2000. Then, in the first days of the new millennium, Ben Grieve experienced his own personal Y2K disaster. He was dealt to Tampa in a small-market ménage trios that saw Johnny Damon, Mark Ellis, Cory Lidle (RIP), AJ Hinch (mazel tov), Angel Berroa, and the legendary Roberto Hernandez pack up and move. Old Ben never hit above .264 again. The pop was gone, bogged down in the pulpy Tropicana Field air. Long story short, he played poorly for three seasons in Tampa then drifted around the NL Central for a couple seasons before disappearing from the Major Leagues for good. These days Grieve is a stay at home dad in Arlington, Texas: "The best way to describe my life would be the life of a nanny," he said. Well nannies need taking care of too. You can help.
Some fun facts about Ben:
-In 1998, Ben was named an All Star and Rookie of the Year. He never won another award in baseball (besides most double plays grounded into in 2000).
-His father Tom (ex-Ranger GM and current broadcaster) blamed Ben's Tampa Bay failings on excessive pressure from the organization's management!
-Lots of girls and boys  in the 90s loved making internet fan pages for Ben! Like Jen! Andrea! And Darron! I wonder where those three are now that Ben really needs them.
-WNBA Star (there really is such a thing) Lindsay Whalen is married to a Ben Grieve. But not the same Ben Grieve. This Ben Grieve's wife is even more anonymous than he is.
Click Here To Sponsor Ben Grieve!
[Have a player you'd like to see featured here? Does your childhood hero need a home? Feel free to send your suggestions to tips (at) pitchersandpoets (dot) com]